Paris is not only the City of Light, but also the City of Romance. It was certainly thus for this writer during a magical week spent many years ago with the woman I love. Below is a sentimental verse inspired by that week and my fumbling, stumbling search for the perfect place to propose . . .
LE MOMENT DE VÉRITÉ
As my ears and eyesight fail me
And my knees begin to creak,
As my hairline inches to the rear
And wrinkles line my cheek,
As my skin becomes translucent
And my crown turns silver grey
I still recall across the years
That fine November day.
You had come with me to Paris.
We would be there for a week.
By Thursday I longed to tell you
But my lips refused to speak.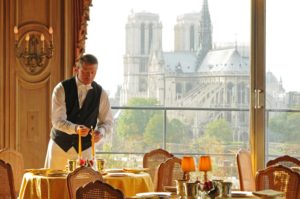 I almost asked you Friday
As we dined at Tour d 'Argent
But the pressed duck came and went and still
I was mute for bravery's want.
We would fly home Sunday morning.
We would have just one more day.
I'd risk regret and sorrow
If I couldn't find a way
To tell you that I loved you
And to ask you for your hand.
A simple task this should have been
With Paris at my command.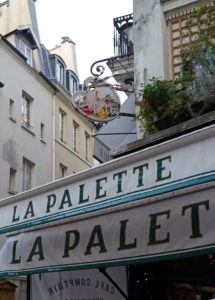 We had breakfast that last morning
At La Palette on rue de Seine
Where I almost found the courage
But was silent once again.
I embraced you on the Pont des Arts,
We held hands in Place Dauphine,
But I knew each time within my heart
Neither was the perfect scene.
Les Invalides was too martial,
Versailles was too far away,
To Montmartre I was not partial,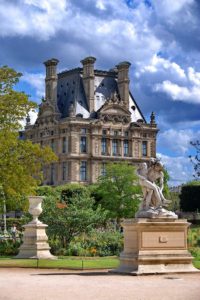 So it went throughout the day.
The afternoon was in decline,
The weather turned to mist.
As we passed each fabled monument
I scratched it from my list.
And now the Sun was dying,
It looked like it might rain,
And in spite all of my trying
It appeared all was in vain.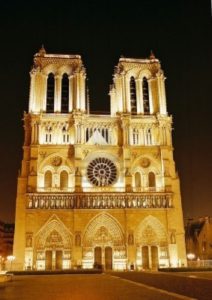 We rode the Métro to dinner
And alit at CITÉ station.
As we walked up to street level
I was filled with new elation.
For the light rain that was falling
Washed the crowds from the Parvis space.
And now my heart was soaring;
I had found the perfect place!
Our footsteps echoed loudly
On the empty cathedral square.
Beneath my umbrella we walked as one
In the damp November air.
We stopped in front of Notre Dame,
That Gothic shrine of old,
Whose nighttime illumination
Turned wet cobblestones to gold.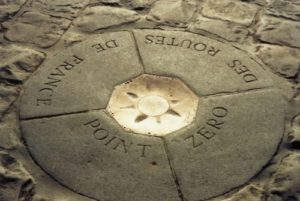 And in that shimmering golden light
I said, "Gaze beneath your feet
And see once more the marker
That's embedded in the street."
You said, "Oh yes, I recall this spot,
It's the center point of France",
But you seemed a little doubtful
That we'd stopped there just by chance.
That gave me the perfect opening
To render my repartee.
I said, "YOU are MY center point,
Will you please marry me?"
There was no surprise within your eyes,
On your face you wore a smile.
As you said yes I could rightly guess
You'd been waiting all the while.
We floated around the shrine's north side
As gargoyles watched above.
Not since Abelard and Heloise
Had Paris seen such love.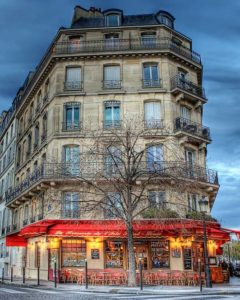 We skipped across the footbridge
That leads to Saint-Louis
And glided in to share a toast
At our favorite brasserie.
The owner bought us champagne,
The waiters laughed with glee,
Then we drifted down the island
To dine at L'Orangerie.
We've returned to Paris many times
And each time we trace that route.
We stand on Point Zero's tablet
And give Our Lady a salute.
Then we stroll around her north side
And cross over to Saint-Louis
And drop in to have another round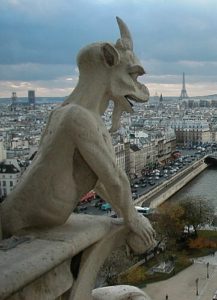 With our pals at the Brasserie.
Yes, someday like the gargoyles
I shall be stone cold and grey
But till then I'll still remember
That one November day
When I finally found the courage
To ask you to be my wife
And with a word you brought contentment
To the balance of my life.