Just got back to Los Angeles last night (Monday, Nov. 7th) after a farewell sip of Carlsberg and an update on election polls at HARRY'S NEW YORK BAR on Sunday evening.
Per our previous post last month, Harry's has conducted a straw poll among American expats and tourists during each presidential election year since 1924, and has had a remarkable winning streak in correctly predicting the winner of each election (Only exceptions: 1976 – Jimmy Carter, and 2004 –  G.W. Bush).
While I had to depart before getting the most up-to-the-minute numbers, with 36 hours left before election day, here is how the poll stood: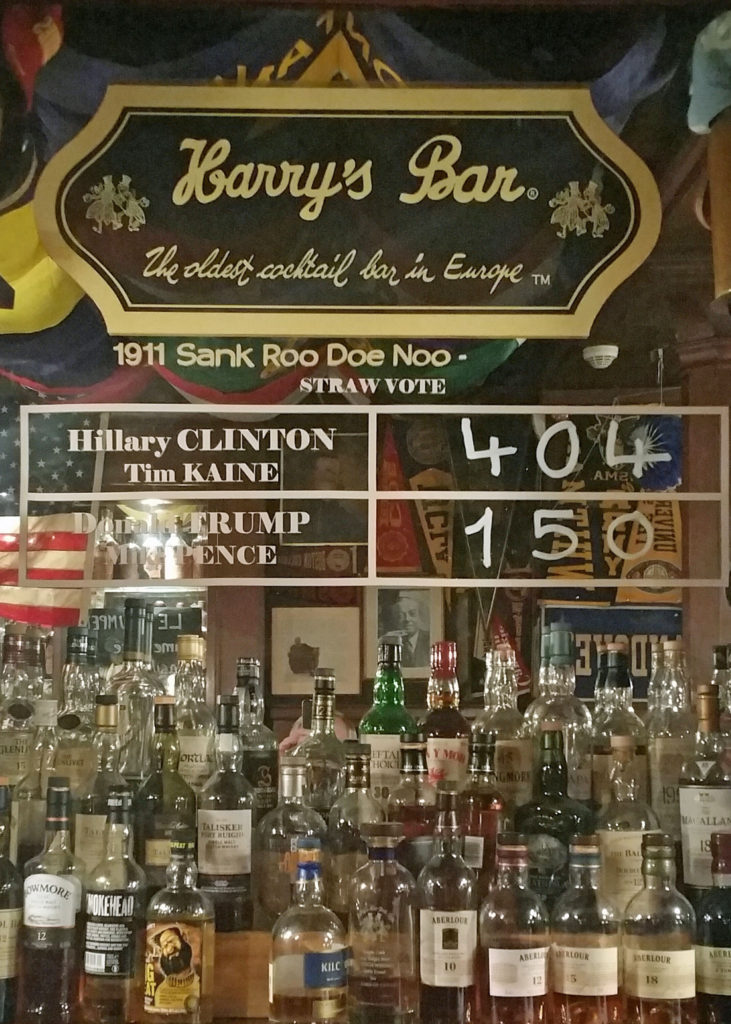 Rather than attempt to editorialize on just how Harry's numbers evolved (% of expats vs.  tourists, influence of a slow tourism year due to concerns about terrorism, etc.) and knowing that any opinion I might offer will cost me roughly 50 percent of my readership, one way or the other, I'll leave it with the simple observation that Clinton fans can hope for a continuation of Harry's win streak and Trump voters can pray for a repeat of 1976 and 2004.
I'm sending this out at 8:00 am on election day, Pacific Day Light Time.    With the time difference of 6 to 9 hours between Paris and the U.S., if you read this soon enough, you may be able to scoop the American Media with a sagacious prediction of this year's winner.
Regardless of your  political inclinations, please make sure to VOTE TODAY.
GOD BLESS AMERICA.